Loading...
Carlton Landing-Blue Bonnet in Carlton Landing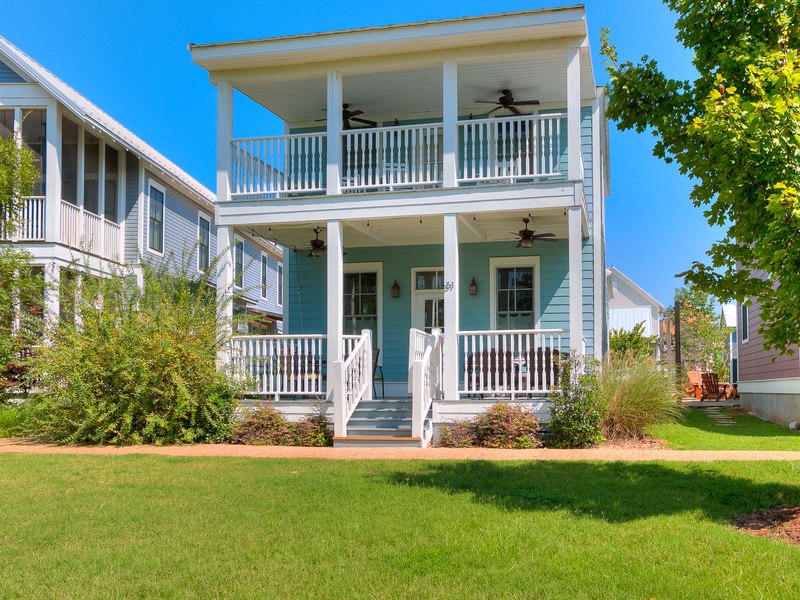 Carlton Landing Fitness Club
Welcome to Blue Bonnet - 31 Redbud Street

Forget your worries in this charming three-bedroom cottage that can sleep up to 8 people!

Nestled right on Redbud Park, this 3 bedroom, 2.5 bath cottage is able to sleep up to 8 people, has a lower and upper patio area and charcoal grill.

Downstairs you will find a king bedroom with its own attached bathroom that connects out to the backyard and grill area. Additionally, you will be welcomed into the dining and kitchen area with an accessible half bathroom. You will continue on into the comfortable and inviting living room. You can rest here or head out onto the front porch and spend time in Redbud Park.

Upstairs you will find a guest room with a twin-sized bunk bed and an additional full bed. The third bedroom boasts a king bed with its very own coffee bar, feel free to stay in bed all day or enjoy a morning cup on the upstairs porch area with great views of the town of Carlton Landing. Whatever your needs, this home is sure to make your worries melt away. This property has a Charcoal grill for guests to use.


SLEEPING ARRANGEMENTS (Sleeps 8):

- Primary Bedroom: King Bed, Private Bathroom With Shower

- Guest Bedroom: twin-sized bunk bed and an additional full bed

- Guest Bedroom: King Bed


Golf carts parked at the property are owners use only.
If you would like to rent a Golf cart, please contact Lakeside Motorsports at
All of our vacation rental homes at LakeStay are equipped with bed linens, bath towels, a starter supply of amenities, and a washer/dryer unit for your stay. Guests will have access to our community amenities: pool, hot tub, grills, and seasonal kayaks-paddle board rentals.